HCNP-Cloud-COSM (Huawei Certified Network Professional-Cloud-Betriebssystem-Management) H13-524-Prüfungs-Dumps Die deutsche Version wurde im Dezember aktualisiert und umfasst 156 Fragen und Antworten. Um die Huawei H13-524-Prüfung gut vorzubereiten, ist die aktualisierte Version der Huawei H13-524-Dumps ein wichtiger Teil. Au?erdem sind Informationen zur H13-524-Prüfung und echte Prüfungsthemen für Ihre Vorbereitung wichtig.
Huawei H13-524 Prüfungsinformationen
In der echten HCNP-Cloud-COSM-Prüfung H13-524 werden 60 Fragen gestellt. Sie haben 90 Minuten, um den Test abzuschlie?en. Die zugeh?rige Zertifizierung ist HCNP-Cloud. Die erforderliche Punktzahl der Huawei HCNP-Cloud H13-524-Prüfung betr?gt 600 und die Gesamtpunktzahl 1000. Hinweis: Das Huawei-Testzentrum ist vom 1. November 2018 zu Pearson VUE umgezogen.
Huawei H13-524-Prüfungsschwerpunkte
Die Prüfungsthemen der HCNP-Cloud-COSM H13-524 umfassen die folgenden 11 Abschnitte.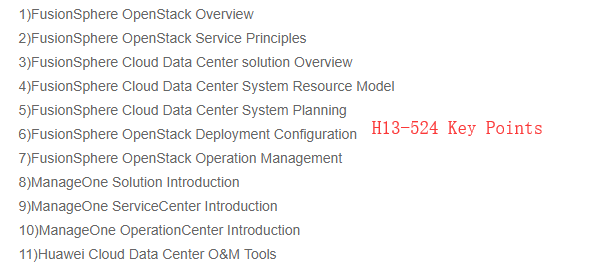 Nachdem Sie alle oben genannten Schlüsselpunkte der Huawei H13-524-Prüfung beherrschen, k?nnen Sie den Test gut vorbereiten.
Zeigen Sie einige H13-524 Exam Dumps
Mit der Huawei-Zertifizierung für H13-524-Dumps k?nnen Sie testen, ob Sie H13-524-Schlüsselpunkte gut beherrschen oder nicht. Teilen Sie einige Fragen zum H13-524-Test-Dump mit Ihnen.
1. When a VDC user applies for a resource, which can select a different () to implement resources to be distributed to the corresponding cluster according to the applicant's needs.
A. Resource pool name
B. SLA label
C. Specifications
D. User name
Answer: B
2. Which of the following is the concept introduced by Huawei during the FusionSphere OpenStack installation process, and deploying components of the same nature or similar functions together?
A. role
B. Service
C. Components
D. Module
Answer: A
3. Which of the following options belong to the key technologies and features of FusionStorage distributed storage?
A. Graphical application modeling, one-click application automation deployment
B. Support linear growth in capacity and performance, smoothly scale to 4096 nodes
C. Provide monitoring and alerting across different operating systems, firmware and hardware
D. Resource permissions and quota management
Answer: B
Unsere Huawei H13-524-Test-Dumps garantieren Ihnen Erfolg beim ersten Versuch.